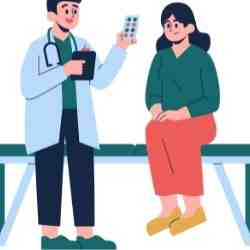 A woman's body and her body's needs are dynamic as she moves through her life. From pre-pubescent woes to post-menopause, everything in between and everything after, women need the right guidance and medical support to build and sustain a successful, healthy life. If found at the right time and through proper research, the right doctor can become a guide, a healer, and a confidante.
But it goes without saying that different periods of life and different ailments require attention from different medical specialties. An obstetrician-gynaecologist (OB-GYN) can be a great resource for managing sexual and hormonal health while a psychiatrist can prove to be invaluable for gaining knowledge of the right tools to navigate all of life's stressors and mental health issues.
Therefore, every woman requires – along with an entire village full of support – a full range of medical specialists in her arsenal who she can turn to, in order to get help with managing her health. Until now, one of the best ways of finding the right doctors for women has been to tap into a trusted, personal network. However, one of the wonders of telehealth and telemedicine is that a quick online search and patient reviews can go a long way in ensuring privacy and discretion. Services like DocGenie provide access to a range of medical specialists who can guide women with all of their healthcare needs.
Meanwhile, here are the kinds of doctors women definitely need in their lives.
Different Kinds of Doctors for Women
General Physician
A great general physician is your first line of defence against a host of deeper and more complex health issues. If consulted at the right time, your general physician can recommend routine exams and screenings to help you navigate your long-term health from an early stage.

They can suggest routine exams for many chronic health conditions such as cardiovascular diseases, diabetes, cholesterol, blood pressure, and much more. A regular check-up with a general physician can help you keep a close check on your vital signs and be on the lookout for abnormalities.

A general physician can also screen you for mental health issues or disorders such as depression or anxiety, which have picked up a lot more attention and care over the last few years. Definitely a good consultant to have in your pillbox.

Gynaecologist
The one specialty no woman can – or should – live without. A gynaecologist, who may or may not also be an obstetrician, is someone all women need to turn to at some point of their lives.

A gynecologists' guidance is necessary for ensuring good sexual health and keeping a frequent check on hormonal balances or imbalances. Gynecologists' are also the doctors to speak to about all things menstruation, from the premenstrual stage to menopause and beyond.
You'll also need the guidance of a gynecologist if you're contemplating breast exams, mammography's, the dreaded pap-smear exam and more.

Cardiologist
Did you know women are more prone to heart disease and silent heart attacks are usually what brings attention to their heart issues? Whether the influence is genetic, cultural, or stress related, the impact on a woman's heart health becomes visible over the course of her life.

A cardiologist can help women with ensuring good heart health in a way that works for them, whether through exercise, medication, or dietary adjustments.

Psychiatrist
Although mental health has become a buzzword over the last few years, the positive note here is that mental health issues are getting the attention they have desperately needed for a few generations.

Until very recently, women have had very few outlets to speak about what troubles them in safe, healthy spaces; but working with a psychiatrist can help immensely. What's most important to realise is that seeing a psychiatrist is perfectly acceptable and that we all need a little help sometimes in helping us cope with life's challenges.

Dentist
We can't overstate the importance of good dental health, especially since a strong link exists between good oral health and your overall health.

Moreover, routine checks with a dentist to have your teeth cleaned, avoid plaque build-up, address issues with cavities or pesky wisdom teeth is necessary. If you're a woman reading this blog post, please make sure you find yourself a good dentist if you don't already have one.

Dermatologist
A sudden outburst of pimples is not the only reason to see a dermatologist.

Whether your skin has had an adverse reaction to chemicals in your make-up, or you're dealing with dark spots, rashes, and seasonal allergies, the right person to take your skin care concerns to is a dermatologist.

Incidentally, DocGenie has a stellar team of accomplished dermatologists who can help you get the care you need. So if you're looking for one, be sure to stop by and take a look at their profiles!

Eye Care Specialist
Regular vision checks, cataract diagnoses and removals, prescription lenses, and everything else in between with regard to your eye care is the job for an eye care specialist.

Depending on what your individual needs are, you may need to choose between an ophthalmologist (surgeries) or an optometrist (vision checks, lenses, corrective eye wear etc.). You will find experienced & trusted specialists on DocGenie for this specialty as well
Regardless of the medical specialty you're in need of, what's most important is that you do your research and find a doctor who develops a care plan for you based on your unique situation. You need someone who will offer you wisdom, compassion, and help you find a reasonable path forward.
Visit www.docgenie.in to find the right doctor for you.