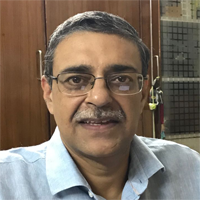 Dr.Sandip Agnihotri
MBBS University college of Medical Sciences, Shahdara, Delhi
DNB National Board of Examinations

25+ years of experienceSpeaks Hindi, English, Punjabi
₹ 1500 per consultation

What do Dermatologists do?
Dermatologists are medical practitioners who treat conditions relating to the hair, skin and nails.
---
What medical conditions do Dermatologists in Delhi treat?
Dermatologists in India can diagnose and treat Acne, Dermatitis, Eczema, fungal infections, hair loss, Warts, nail problems, Vitiligo, Psoriasis, Rosacea, Shingles, skin cancer, etc. Their procedures include chemical peels, cosmetic injections, Cryotherapy, Dermabrasion, Hair removal or restoration, Laser surgery, Skin grafts, Liposuction, Vein procedures, etc.
---
Where in Delhi are Dermatologists based?
You can do an online consultation with a dermatologist in Delhi from anywhere in India. You can also book an in-clinic appointment with them. The address for Dr. Shehla Agarwal's clinic can be found in her profile.
---
How to verify Dermatologists in Delhi?
Dermatologists in Delhi can be verified by their degree and their registration no.
---
Do you provide in-clinic Dermatologist appointments?
Yes on DocGenie, you can book in-clinic appointments with some of the best Dermatologists in Delhi. You can book appointments easily by clicking on the "Book In-clinic appointment" button on their profile pages
---
When should I consult a Dermatologist in Delhi NCR?
If you have any issues with skin or hair or scalp, you should consult a Dermatologist doctor in Delhi. Dermatologists treat issues like Acne, Dermatitis, Eczema, Fungal infections, Hair loss, Warts, Nail problems, Vitiligo, Psoriasis, Rosacea, Shingles, Skin cancer, etc.
---
Can I call a Dermatologist in Delhi for an appointment?
Yes, on DocGenie you can book an appointment with Dermatologists in Delhi anytime within a few minutes. Appointments are available between 9am and 9pm. DocGenie helps you access some of the best skin specialists in Delhi NCR and hair specialists in Delhi NCR within a few minutes or few clicks. You can easily book appointment with our Dermatologist in Delhi
---
What things must be considered to find the best Dermatologist in New Delhi?
On DocGenie, we have done the work for you to identify some of the best Dermatologists in Delhi. Experience is a very critical factor in a doctor being able to understand a patient and propose treatment. Many experienced doctors are able to provide very good care through telemedicine which saves the patient's hassles to travel out to meet doctors. A good pedigree of education also is a good indicator of which doctors you can select.
---
How Can Docgenie Help in Finding the Best Dermatologist in Delhi?
In DocGenie, we have handpicked some of the best Dermatologists in Delhi and made the job easier for you. Our Medical director, herself one of the top general physicians, has carefully selected each doctor. We have done the work of finding the best Dermatologists in Delhi so you don't need to worry about this