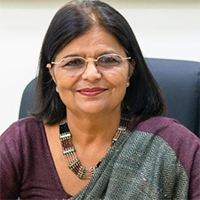 Dr.Ranjana Sharma
MBBS GR Medical College, Gwalior
MS GR Medical College, Gwalior
FRCOG London, UK
42+ years of experienceSpeaks Hindi, English, Bit of Arabic
₹ 2000 per consultation

What do Gynaecologists do?
Gynaecologists are doctors who specialize diagnosis and treatment of women's health issues with a focus on the female reproductive system. An Obstetrician is a specialist in childbirth and delivery, prenatal and postnatal healthcare. Obstetrics is often combined with Gynaecology as a medical specialty.
---
What medical conditions do Gynaecologists in Delhi treat?
A Gynaecologist in India is trained to deal with a number of illnesses including obstetrics, or pregnancy and childbirth, menstruation and fertility issues, sexually transmitted infections (STIs) and hormone disorders. Other conditions commonly treated by Gynaecologists include urinary and fecal incontinence, STIs, sexual dysfunction, endometriosis and issues relating to menstruation, menopause and fertility.
---
Where in Delhi are Gynaecologists based?
Through DocGenie, you can do a consultation with an Obstetrician & Gynaecologist online in Delhi or from anywhere in India. You can also book an in-clinic appointment with them. Dr. Neha Jain's clinic address can be found in her profile.
---
How to verify Gynaecologists in Delhi?
Gynaecologists in Delhi can be verified by their degree and their registration no.
---
Do you provide in-clinic Gynaecologist appointments?
Yes, DocGenie has some of the best Gynaecologists in South Delhi for whom you can book in-clinic appointments online. You can see in the profile, which Gynaecologist in South Delhi is available for in-clinic appointments and you can easily book an appointment with them.
---
When should I consult a Gynaecologist in Delhi NCR?
Beginning from addressing the growing needs of the teenage or adolescent girls, you can counsel on many problems/questions without meeting the Gynaecologist in Delhi in person - such as breast size, pain in breasts, lumps in breasts, problems during periods, length of menstrual cycle. Questions around vaccinations - especially HPV. For adult women in their reproductive years -awareness about the regular screening for various diseases, questions regarding pregnancy, second opinions regarding IVF, advice on contraceptives. For our more senior women menopause and postmenopausal issues, including vaginal dryness and repeat infections, multisystem problems faced by women, our Gynaecologist would be your trusted guide in this journey. Due to Covid, lots of people have turned towards online consultation as that gives them the opportunity to consult a trusted, competent doctor in their comfort zone and privacy. So, if you have an issue you want to discuss or seek a 2nd opinion, you can do it at your convenience. At DocGenie we are just a phone call away.
---
Can I call a Gynaecologist in Delhi for a quick appointment?
Yes, on DocGenie you can book an appointment with the best Gynaecologist in Delhi anytime within a few minutes. Video appointments are available between 9am and 9pm. DocGenie helps you access some of the top psychiatrists in Delhi within a few minutes or few clicks.
---
What things must be considered to find the best Gynaecologist in New Delhi?
On DocGenie, we have done the work for you to identify some of the best Gynaecologists in Delhi. Experience is a very critical factor in a doctor being able to understand a patient and propose treatment. Many experienced doctors are able to provide very good care through telemedicine which saves the patient's hassles to travel out to meet doctors. A good pedigree of education also is a good indicator of which doctors you can select.
---
How Can Docgenie Help in Finding the Best Gynaecologist in Delhi?
In DocGenie, we have handpicked some of the best Gynaecologists in Delhi and made the job easier for you. Our Medical director has carefully selected each doctor. We have done the work of finding the best Gynaecologist in Delhi so you don't need to worry about this.