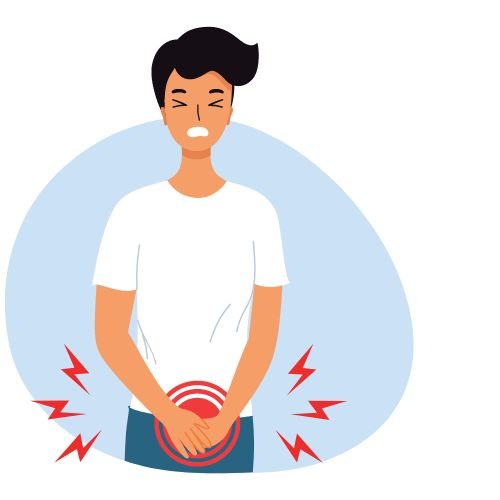 A urinary tract infection (UTI) can be painful and annoying. Most UTIs affect the bladder and urethra, but they can also affect the kidneys and ureter. Women have a higher risk of suffering from this infection as compared to men. This is because women have a shorter urethra than men and hence the bacteria needs to travel a shorter distance to reach the bladder. Urinary tract infections can usually be treated easily with a course of antibiotics if they are detected in time. If not, it can affect the kidneys which make it a more serious problem. Hence, it becomes important to be able to recognise the signs of this infection.
Some of the symptoms to watch out for are:
A persistent urge to urinate but low volume of urine produced
A burning sensation while urinating
Cloudy urine
Blood in the urine which makes the urine appear red, pink or blackish
Strong smell of the urine
Pelvic pain
A urinary tract infection that affects the urethra is also known as urethritis. A burning sensation when urinating and discharge along with urine are the most prominent symptoms of this type of infection. The infection is called cystitis if it affects the bladder it comes to be known as . Cystitis patients typically suffer from frequent and painful urination along with discomfort in the lower abdomen and pressure in the pelvic area. They may also notice blood in the urine.
Acute pyelonephritis refers to a urinary infection that affects the kidneys. In such cases, along with the typical symptoms, the patient may also experience high fever, nausea, shivering and pain in the upper back and sides of the abdomen.
This infection can affect a person at any age. Most women suffer from at least one bout of urinary tract infections in their lifetime. Some of the factors that increase the risk of suffering from this infection are:
Certain types of birth control such as diaphragms and spermicidal agents
New sexual partners
Urinary tract abnormalities
Kidney stones or other blockages in the urinary tract
Weakened immune system
Use of catheters
Recent urinary procedures that involve the use of medical instruments
A healthy lifestyle is key to preventing UTIs. Drink plenty of fluids to flush bacteria and other toxins from your body. Bacteria multiplies in the bladder if urine stays for too long. Hence, urinate frequently and do not try to control your bladder. Avoid synthetic underwear and wear cotton underwear with loose fitting clothes that keep the area around the urethra dry.
How to prevent recurrent urinary tract infections
A urinary tract infection or UTI can be quite painful and uncomfortable. This infection can be described as an infection that affects the ureter, urethra, bladder or kidneys. Women have a shorter urethra than men which makes this more vulnerable to this kind of infection. It is said that most women suffer from at least one bout of this infection in a lifetime. Urinary tract infections are caused by bacteria and may often recur after treatment. However, in most cases, this can easily be prevented. Here are a few tips to help prevent recurrent urinary tract infections.
Drink plenty of fluids:
Ideally, we should drink 8-10 glasses of water a day at regular intervals. This keeps the body hydrated and flushes toxins and bacteria from the body. Water also prevents the formation of kidney stones that could increase your risk of suffering from a urinary tract infection.
Urinate frequently:
If you drink the required amount of water, you will typically need to urinate frequently. Do not try to control your bladder. Holding your urine in your bladder allows bacteria to multiply inside the bladder. This is an easy way for a UTI to begin.
Follow healthy bathroom habits:
Cleanliness is the first step to preventing any infection. When using public restrooms, flush the toilet before and after urinating. In the case of women, it becomes important to ensure that the seat of the toilet is clean as well. After urinating, wipe the residual urine with toilet paper in a motion that goes from front to back. This is important since the urethra is situated very close to the rectum. For uncircumcised men, it is important to wash the foreskin after urination.
Wear loose clothes:
Tight fitting clothes trap moisture and aid in the multiplication of bacteria. Hence, always wear loose fitting clothes that keep the area around the urethra dry. Also, avoid synthetic underwear and only wear cotton underwear.
Urinate after intercourse:
The relative closeness of the vagina to the urethra makes it easy for bacteria to enter the urethra during intercourse. Hence, make it a habit of washing your pubic region after urinating. This helps flush out any possible bacteria that may have entered your body
Choose the correct method of birth control:
Certain types of birth control such as diaphragms and spermicidal agents can promote a urinary tract infection. Hence, it is best to avoid these types of birth control and pick alternatives.
About the author
Dr. Neha Jain operates Bliss & Bless clinic and is a consultant at Fortis Hospital, Vasant Kunj. She is one of the best gynaecologists in India. She is known for her sincerity, excellent manners, and clinical acumen for diagnosing women's problems. Some common problems that she is efficiently able to manage on a teleconsultation are Early pregnancy, Vaginal Discharge, PCOD, Menopause Symptoms, Medical Termination of Pregnancy (Abortion)- Through Pills/Surgical, Pelvic pain, Menstrual problems, Family Planning advice.
DocGenie is an online telemedicine platform that provides you quality healthcare from the best doctors in the comfort of your own space. On DocGenie, you will find a select few, highly-qualified doctors, unlike other online platforms with thousands of doctors. So you can be assured of receiving excellent, honest, personalized care from the best professionals.