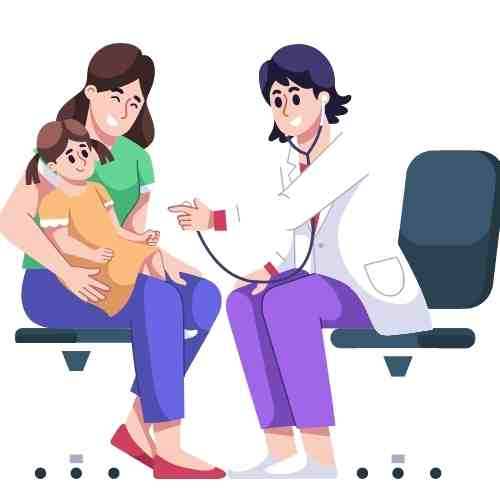 For parents, children are their first priority. Health and well being of a child is of primary importance and parents want the best possible care for their babies.
Choosing a medical professional for your child is a critical choice. It is about choosing someone you can entirely trust the little one's health with. After child birth, especially, in the first few weeks you will constantly need to consult your baby's doctor as you get the hang of things. Besides, the regular check-up schedule will make you see the doctor a lot. Moreover, if your little one catches a cold or falls on the ground, you want to immediately take advice from the doctor. Hence, you would want a trusted person with whom you feel comfortable, and can communicate openly.
Before opting for the right kind of doctor, it is important to find answers to the following questions –
Who is the most efficient doctor for your child?
Should you only consult a pediatrician until a certain age?
Is a family doctor the right choice?
If you decide on a pediatrician, at what age should you switch to a family doctor or a general physician (GP)?
In this blog, we'll deal with the differences between pediatricians and family medicine doctors and share some key considerations for you.
It is a fact that both pediatricians and family doctors or general physicians can take care of children's medical needs. They are both trained and have experience in treating children. Both are skilled to provide routine preventive care, treat common conditions, illnesses and injuries. Both can ensure that your child is achieving developmental goals and both can guide on necessary immunizations.
What does a pediatrician do?
However, there are definite reasons why you need to opt for the former over the latter. Pediatricians are child specialists and specialize solely in the field of children's health and children's medicine. Pediatricians are known for treating children in the age group of 0 to 18 years. Be it a newborn, an infant, a baby, a teen or anyone in between – a parent can totally depend on a paediatrician for any health issue. Today, you can also go for online pediatrician consultation for your baby and access quality medical care from the comfort of your home. For best pediatrician online consultation, book a session with a highly experienced child specialist on DocGenie.
Armed with specialized training and constant focus on children's health pediatricians can offer treatment that is tailored for your child's distinct needs. Such doctors are especially adept at offering medical guidance for preemies and children – be it for physical, mental and social conditions.
Here are some of the services offered by pediatricians-
Sharing tips on breastfeeding, this includes pumping for premature babies
Reassuring babies diagnosed with health conditions like asthma, which often scares the parents greatly.
Helping kids along with parents to deal with behavioral issues such as Attention-deficit/hyperactivity disorder (ADHD)
What does a general physician or family medicine doctor do?
On the other hand, General physicians or family medicine doctors normally take care of a vast extent of diseases and know something about almost every health concern that afflicts us. They deal with patients of all ages. In fact such doctors provide medical care for a wide range of patients, irrespective of age and stage of life.
They are capable of treating children with conditions like asthma, pink eye and bedwetting. They are also skilled in providing adolescent care. On the other hand they can guide adults in birth control, in managing chronic health conditions like high blood pressure and diabetes. GPs or family doctors can also recommend Pap tests, prenatal care and other tests for women's health conditions.
Why choose a pediatrician?
Reasons for deciding on a paediatrician can be many. A child in need for special care regarding physical, mental or social health should be treated by a child specialist. That said, many parents want a doctor entirely focused on child health. They look for someone specialised to take care of their children, for everything from teething to teen anxiety. They always opt for pediatricians. Many are now also going for online pediatrician consultation to stay safe during this ongoing pandemic. At DocGenie we offer best pediatrician online consultation by means highly qualified and experienced doctors specialising solely in child healthcare.
Pediatricians typically chose their career because they love children and want to help them. This along with their specialized training make them more qualified to understand the health conditions of a child. However, since pediatricians are child specialists, a child will have to switch doctors after turning adult.
Age for switching from pediatrician to family doctor
There's no specific age. Pediatricians can take care of kids till they turn adult. While some kids switch to GPs early, others continue to see their pediatrician all through college, even afterwards. There is no hard and fast rule that a child has to continue seeing the same doctor for as long as possible. Parents mostly take a call on health care choices for their children until they turn adult. After that, children are ready to make health decisions independently.
DocGenie is an online telemedicine platform that provides you with quality healthcare from the comfort of your own space. On DocGenie, you can book an online consultation with highly qualified doctors as well as book lab tests for home collection.