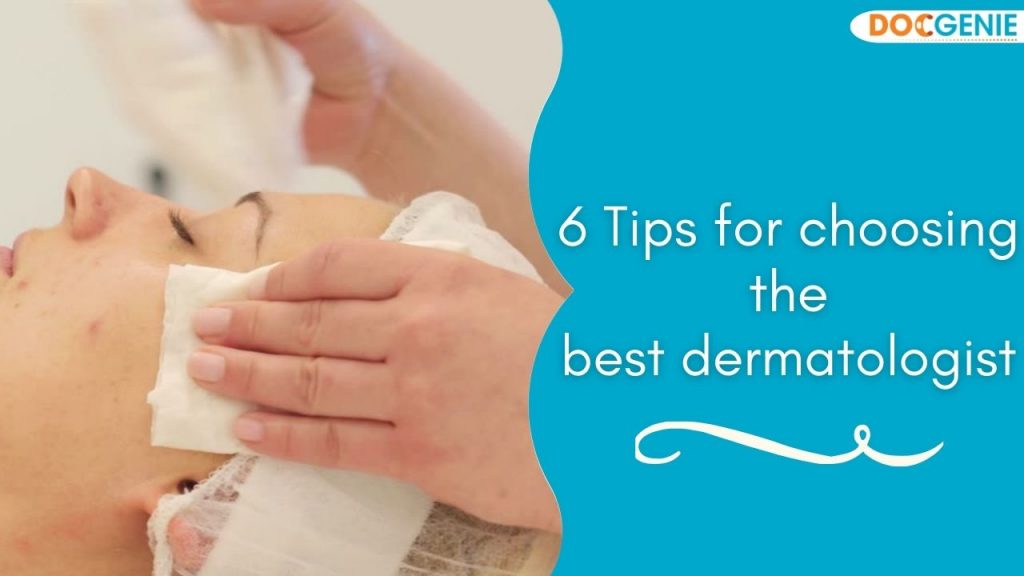 What to Look for in a Dermatologist?
While a dermatologist, also known as a skin specialist, may not always come up in frequent conversation, a need for that speciality can prove to be surprisingly prominent when the time arises. If you think about it, no one really counts on having a skin rash, a bacterial, or a fungal infection develop. But they do happen sometimes. And who else would you turn to if that were the case?
So now, with sufficient cause established for a skin specialist, how do you really go about choosing one? What are the qualities you need to look for? And how do you find a skin specialist who fits your needs? Careful evaluation is key.
"Doctors enjoy a unique privilege in our society" says DocGenie's Founder, Dr. Rachna Kucheria. "Because of the weight attached to our work and our qualifications, our patients place a lot of faith and belief in what we say. Therefore, it's really important for patients to carefully evaluate the doctor they consult with. It's not a decision to take lightly."
We couldn't agree more. Finding the right skin specialist for your needs involves taking into account various factors,
6 Tips for Choosing a Dermatologist :-
Compassion and Empathy
While "bedside manner" doesn't necessarily apply in an online consultation for a dermatologist, the principle here remains the same. To feel comfortable discussing your problems with your doctor, you need someone who makes you feel safe and heard.

Find a doctor who offers compassion for your troubles and makes the time to hear you out completely. "Many times, an individual's wellness involves being in a safe environment that addresses an issue holistically" says Dr. Kucheria. "While people tend to associate holistic care with other medical specialties, it's no different with dermatology."

For example, stress is a known cause for many skin issues and disorders. And if you're actively trying to lower your stress levels, the last thing you need is a doctor who trivialises your struggles; or worse, ignores them completely.

Credentials and Qualifications
When looking for a skin specialist, we ask all our readers and patients to become proactive about their own care. Part of that proactiveness includes doing your research and looking into the credentials and qualifications of the doctors you're considering.

A good number of doctors are now online and their qualifications are easily available. If you find someone who has spent time earning fellowships and advanced degrees, while garnering positive patient reviews, chances are you will also find a good fit for yourself with them.

For instance, Dr. Shehla Agarwal , Dr. Sandip Agnihotri, skin specialist at DocGenie has been practising Dermatology for the last 24 years, and has honed expertise in various diseases such as vitiligo, psoriasis, autoimmune disorders, and more. Dr Mithra Rangapriya and Dr Arpana Rijal both have sound academic careers to their credit.
Online Availability
When deciding on a doctor, think about what your needs are as a patient. Are you only comfortable with an in-person consultation? Or would you much rather prefer an online consultation for a dermatologist?

While some conditions may require an in-person physical examination, many others can be treated through a remote consultation. For example, at DocGenie itself, all the Dermatologists, each with decades of experience are available for online consultations when needed.

Depending on your schedule and your fear of exposure to Covid in public spaces, your needs and preferences will vary. So please make sure that you find a doctor who can attend to your condition from a distance as well.

Facilities Available
Can your skin specialist's clinic handle a laser therapy treatment? What about microdermabrasion treatments for other skin disorders? Can they treat or refer you to a super specialist for more grave diagnoses such as skin cancers? What about issues related to hair and nails? All of these considerations will need to factor in when you decide on a consultation with a skin specialist.

Patient Reviews
Read the patient reviews. That's the section where you'll find valuable insight into how a doctor's patients truly feel about consulting with them. Whether you're stepping into the clinic or getting into an online consultation with your skin specialist, the patient reviews will help you understand more about details such as waiting times, the staff's accessibility and willingness to help, insurance information (if required), and the general vibe and environment you're faced with.

Consultation Fees
Although this one factor doesn't get spoken about too often, the doctor's fee really should be a factor in deciding whether you are able to consult with them or not. In many cities, the consultation fee becomes a deterrent in getting the right treatment, so make sure that you're not stretching yourself beyond a point that is comfortable for you.
If you're looking for a skin specialist, or looking to make an online consultation with a skin specialist, visit www.docgenie.in.