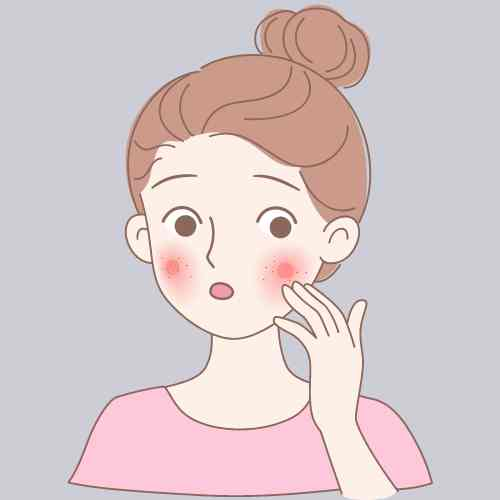 We have bad hair days and then we have bad skin days like Skin Inflammation. While both are major killjoys, you can actually laugh about the first and ignore, but the latter, known as skin inflammation, needs to be taken care of. To reduce skin inflammation the first thing you should try to know is the causes and symptoms. Once done, you can explore remedies that are easily available in your home.
Bad skin often indicates sensitivity and inflammation which results from a lot of reasons. Known symptoms are swelling, rashes, redness of the skin, and blistering. Inflammation is basically your body's natural reaction to a stimulus or trigger – often a bacterium. Sleep deficit, over-exposure to the sun, and allergic reactions – are some of the common causes of skin sensitivity. Inflamed skin usually turns red as blood rushes to the infected spot with immune cells to fix the damage. Normally, the swelling goes along with the other signs once the fixing process ends.
Also read: Do You Have Sensitive Skin? Keep These 10 Tips In Mind
It is important to start taking action when inflammation becomes serious.
Here are five simple and soft ways to reduce skin inflammation –
1. Stay away from the sun
The first step you can take to reduce skin inflammation is to stay away from the sun. Damage from sun exposure is one of the most common skin inflammation causes and being outdoors can do major harm to your inflamed skin. Further exposure to sun worsens the skin condition enhancing the chances for serious infection. If going-out is absolutely unavoidable, make use of your hats, shades and an effective sunscreen lotion by all means.
2. Take a shower
A balmy shower with lukewarm water often works wonders for skin inflammation. Using oatmeal soaps and tea tree oil will add to your relief while any kind of rubbing with scrubs or loofahs can lead to serious aggravation of your skin condition. Anti-inflammatory elements in oatmeal are acknowledged protection against irritants.
Also, keep in mind not to stay in the water for long and to keep the temperature of water warm; or the skin will dry out, robbing it of its natural oils.
3. Stress management
Constant stress is also considered amongst the most common skin inflammation causes. Stress management is the buzz word nowadays, and globally therapists and psychologists are working hard to help us manage our stress. While it might be difficult to totally wipe out stress, you can always control the daily stress levels by yoga, meditation or biofeedback therapy – a process where electronic monitoring can train you to obtain voluntary control of your body functions.
4. Moisturize
Skin inflammation causes nasty damage to the outer layer of your skin. For a miraculous effect on your skin, go for a gentle aloe-vera based moisturizer. It seals off the top-most layer of your swelled skin and shields it from external infections. Anti-inflammatory and therapeutic elements of aloe-vera are great for skin inflammation.
Also read: Dry? Normal? Oily? Do You Know Your Skin Type?
5. Stick to a simple routine
Skin inflammation makes the skin hyper-sensitive even to the things you use daily without any care or concern. Often the use of your daily skin-care products can make the condition worse and cause further damage to your skin. If you are down with skin inflammation stay away from any beauty products and stick to a simple cleanser and moisturizer. Also, using make-up is a bad idea as it will trigger the infection. You can try a skin-awakening-moisture-boost-serum, to soothe your inflamed skin.
While the above five are the most recommended remedies for skin inflammation, there are many other lesser known but quite useful therapies as well. Taking vitamin D supplements, wearing soft textured and comfort-fit clothes, cool and wet compresses are widely known to have a great therapeutic effect on reducing skin inflammation.
A great thing to keep in mind is that the efforts to reduce skin inflammation always pay off in the long term, as it contributes towards improving your overall health and also in reducing risks of serious health issues.
For continued remedy to skin inflammation your food choices can also play a significant role. Make it a habit to include more and more fruits and vegetables in your diet. Additionally, soybeans, fishes and walnuts, which have omega-3 fatty acids, are great for addressing inflammation issues. Olive oil, garlic, grapes, tea, blueberries, celery and spices like ginger, rosemary and turmeric are also recommended as anti-inflammatory food products. Lastly, remember to cut down on harmful fats and processed foods like margarine, corn oil and anything deep-fried.
A routine which includes daily exercise is always great for many health reasons and it is also beneficial for controlling inflammation as body weight can trigger inflammation. Know more from the best skin specialist
A caveat
Inflammation doesn't always happen while reacting to a trigger, it can start acting without anything to fix or cure. When this happens, the cells that typically defend you begin to harm the arteries, organs and joints. This is when you need to take serious medical help by visiting a doctor.
Life is beautiful! A little care and a little caution will make you live happy and free of any care in the world!
La dolce vita!!
DocGenie is an online telemedicine platform that provides you with quality healthcare from the comfort of your own space. On DocGenie, you will find a select few, highly-qualified doctors, unlike other online platforms with thousands of doctors. So you can be assured of receiving excellent, honest, personalized care from the best doctors.
Our Doctor
Online General Physician in Delhi, Online ENT Doctors in Delhi, Online Psychiatrist Consultation in Delhi, Online pediatrician consultant in Delhi, Online Obstetrician & Gynaecologist Consultant in Delhi, Online Dermatologist Doctor in Delhi, Online Dentist Consultation in Delhi, Online Consultant with Surgeons in Delhi, Online Orthopedic Consultation in Delhi, Online Urologist Doctor Consultation in Delhi