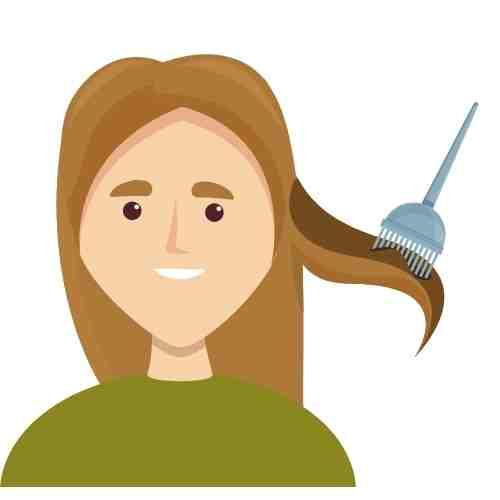 Dr. Shehla Agarwal (MBBS MAMC New Delhi, MD (Dermatology) MAMC New Delhi), one of the best dermatologists in Delhi NCR.
Whether you're doing it to cover your grey strands or just for fun, changing your hair color can give you a new look altogether. But it needs to be done correctly. So here are five tips that will help you along your hair color journey. Are you ready for the compliments?
1. Choose the Right Type of Colour
There are four types of hair colours; temporary, semi-permanent, permanent dyes and bleaches. Temporary ones are good for testing the colour as they last till a single wash. Those who are trying hair colour for the first time and just want to get rid of a few greys should opt for semi-permanent colour. Those who have more greys to cover should go for permanent colours or bleaching. Both of them would last until the hair grows out.
2. Wait! Take a Skin Sensitivity Test First
Like food and drugs, hair colours can cause allergic reactions and this is the reason why a test is recommended. Ideally, you should perform the test 48 hours before colouring. Apply a small amount of the product on the inside of the elbow. If you notice any rash, redness, burning or itching that means you are allergic to it and shouldn't use the product. Sometimes it is possible that a person might experience signs of adverse reaction on the scalp during the colouring process. In that case, you should rinse off the product immediately.
3. Don't Lose Your Hair's Shine in the Process
Frequent use of oxidative products (including permanent dyes and bleaching) changes the hair structure, making it lose shine and strength. Permanent colours should be reapplied every 4-6 weeks in order to avoid noticeable regrowth at the root line. The same should be done for bleaching. And while reapplying, cover areas where regrowth is visible, that is the hair roots, this helps safeguard hair.
4. Follow the Instructions
You should follow the instructions on the packaging in case you are colouring your hair yourself. Or get it done from a professional. Oxidative colours contain ingredients such as hydrogen peroxide and ammonia which can cause irritation or alter the hair structure when applied wrongly. They also require mixing of different components, which should be carefully mixed and used. So it becomes essential to read and follow the usage directions carefully especially if you are doing it for the first time.
5. Post-Colour Care is Also Important
To keep the colour vibrant for longer and extend its life, it's important to care for hair afterwards. You should always use a shampoo and conditioner specially made for coloured tresses as they are infused with ingredients that smoothen the cuticle surface. This will help guarding it against any mechanical damage. Avoid washing newly coloured hair frequently as that can cause fading of the colour. Excessive sun exposure can also cause damage to the coloured hair so cover them up when you go out during the day.
About the Author
Dr. Shehla Agarwal is a Graduate and Post-grad from Maulana Azad Medical College. She is one of the best dermatologists in Delhi NCR. She has been practicing for 22 years at own clinic and is also associated with Apollo Hospital. In addition, Dr. Shehla conducts some workshops for public education on skin care, Antiageing and also other skin and hair related problems all over the country and abroad.
DocGenie is an online telemedicine platform that provides you quality healthcare from the best doctors in the comfort of your own space. On DocGenie, you will find a select few, highly-qualified doctors, unlike other online platforms with thousands of doctors. So you can be assured of receiving excellent, honest, personalized care from the best professionals.