We like to think of the ENT – Ear, Nose, Throat – area as one of the most connected passageways of the human body. A tickle in one leads to a watery orifice in another and incessant itching in the third. Keeping the ENT region clean, safe, and healthy is not just a "nice to have" habit, it's actually vital.
Moreover, in a city like Delhi, where pollution runs rampant and nasal passages need routine scouring, we need to pay particular attention to the doctor we'll end up consulting with. And while the hunt for the best doctor for ENT in Delhi may not necessarily play into your plans on a regular basis, we still think it's important to know how you should select your ENT doctor.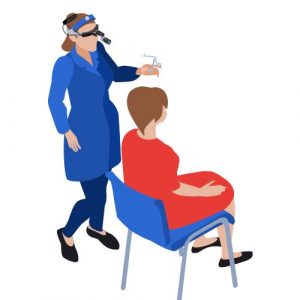 Who is an ENT Doctor?
Very simply, an ENT doctor is someone who is medically and surgically trained to treat health conditions like hearing issues, nasal allergies, conditions related to an individual's sense of smell, breathing disorders, ear infections, sinuses and more. 
Sometimes, an ENT specialist also treats both benign and malignant tumours, facial deformities, or even issues related to facial trauma leading to plastic or reconstructive surgery.
Choosing the Right ENT Doctor for You
With so many doctors available to treat a single specialty, how do you go about choosing the right one? What's the best way to decide who you should consult with and who you shouldn't?
Do you look at their qualifications? Do you look at their years of experience? Or the number of fellowships they've completed? Or should you rely on online patient reviews instead? 
There's no substitute for a doctor who comes with decades of experience but you may not feel comfortable when you consult with them. By the same token, someone who you DO feel comfortable talking to may not have the years of experience to always accurately diagnose the rare chance of a rare disease.
So how do you make the right choice?
The honest truth is that there's no one right answer. When it comes to your or your family's health, you can never be too careful in choosing a medical professional who will offer you the right guidance and treatment in the most compassionate and cost-effective way. 
Why cost-effective? Because healthcare can be quite expensive, especially for conditions that require consistent and focused treatment. 
Check with Your Family Physician
The first stop for your reference check should be your family physician or your GP. While, in India, we don't have a healthcare structure that requires a referral from a General Physician first, your family doctor is one of the best people to ask, since they're familiar with you and your medical history. They will certainly be able to help you find the best doctor for ENT.

In the event you need a doctor with a very specific sub-specialty, your family physician can help as well. For example, Dr. Yogesh Jain, ENT or ear nose throat specialist in Delhi, is a well-known and well-established doctor who has helped a great number of patients over two decades of his practice.

On the other hand, Dr. Meenakshi Jain, a gold-medalist in her specialty who has also practised for over two decades, specialises in sinus and allergy disorders, amongst the many other conditions she treats. They can be consulted for a new problem as well second opinions in case you have been recommended a procedure or surgery and have doubts. Both Dr Yogesh Jain and Dr Meenakshi Jain work at major hospitals in Delhi, as well as have their own ENT clinic in South Delhi. 
Ask for Family Recommendations
Since they're the most influential people in our circles, getting started with recommendations from family is usually a good idea. They may be able to help you find the best doctor for ENT in Delhi in a neighbourhood close to yours. And while you're at it, do a quick search online to read up on the review for a particular doctor. Never hurts to be prepared!

Check for Insurance Coverage
Do you get a sense for how many appointments you will need to resolve your predicaments? Will this all become an out-of-pocket expense or will you need insurance coverage for your treatments? Will your insurance even cover your appointments? You may want to spend a little time and effort figuring out these details ahead of time.

Good Communication & Listening Skills
How closely does your doctor listen to you? When you meet them, do you feel like you've been heard or do you feel like all you have is a long list of complicated instructions that may not work for you? Or even worse, do you leave feeling like the doctor or their office has made no effort to make you feel safe, comfortable, and address your anxieties or fears?

While we may not spend a lot of time actively looking for doctors on the basis of their listening skills, those are the ones that end up mattering the most in the long run.

The right doctor for you isn't as far away or as impossible to find as you might have once though. Reach out to us on www.docgenie.in for an appointment today.