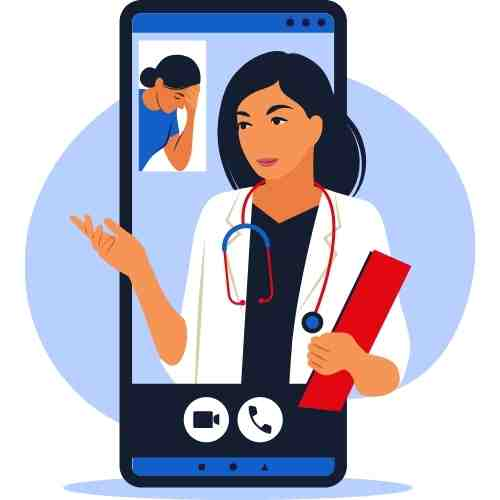 The healthcare industry worldwide is passing through an epoch making time period. A tectonic shift in accessing healthcare is in the offing as more and more people embrace telemedicine. Industry experts are predicting an estimated growth of 18.2% between 2021 and 2027. A host of benefits are making telemedicine a viable option for people across geographies. As a result, the scope of telehealth as a preferred medium for patient care is rapidly increasing.
Telehealth or telemedicine covers a broad range of healthcare delivery including online consultation, video-conferencing, mobile app and messaging. Notably, WHO now recognises a number of telemedicine services including-
To start with, telehealth has potentially extended the frontiers of high-quality healthcare by enabling providers to reach out to patients anywhere anytime. Surveys conducted in several parts of the world reveal high levels of patient satisfaction. This convincingly indicates the success of telemedicine in meeting patient expectations.
It is also pertinent to note that telehealth has played a heroic role in the last years of the pandemic. During the troubled times where going out was fraught with multiple risks, telemedicine was a bliss for thousands of patients who needed urgent medical attention. For these people, telehealth proved to be an extremely effective solution as it enabled them to avoid exposure to the virus while accessing top quality medical care. This reduced the load on doctors as well.
Ensures comfort and safety
Another distinctive factor about telehealth is that it brings the doctor to your home. Over the last decade, the healthcare industry has shifted towards a more tech-enabled service. The most striking impact of this shift has been providing at-home services and reducing clinic visits to a considerable extent. Moreover, it has also eliminated the hassles of finding parking spots at hospitals and the tedious waiting time at clinics.
Inclusive in nature
India's 1:10,189 doctor-patient ratio is alarmingly low. The situation is abysmal in rural areas which require three times the number of existing nurses and five times the paramedics. Significantly, delivery of healthcare through telemedicine ensures quality services to people living in remote areas where distance is a critical factor. By using tech-driven telemedicine, healthcare professionals can provide the following services to these communities–
Exchange of valid information for diagnosis
Effective treatment
Prevention of disease and injuries
Research and evaluation
In the last two years, the coronavirus pandemic aggravated the situation further for the people living in rural and remote areas. To access healthcare these communities had to travel long distances only to reach clinics that were already crowded. This crisis has made telehealth emerge as the pivot of Indian medical care in the last two years.
Today, there is no denying that telehealth has enhanced access, and created greater comfort and convenience for patients, particularly those living in remote areas, the ones seeking child care and those with restricted mobility.
Also read: Benefits of Telehealth for Patients and Doctors
Cost effective
A large section of people still remain outside the ambit of quality healthcare in India because of high cost. This is where telemedicine comes in as a path breaking solution. Being a budget friendly module, it has revolutionised healthcare in India where a huge section of people cannot afford care from private healthcare providers. Also – saves on time = protects livelihood, and helps prevent or treat problems early, so the high cost of hospitalisation can be avoided
Way forward
As a way forward, the telehealth industry will need to be more focused on the key indicator of patient satisfaction. On DocGenie, we are continuously adding experienced doctors to our platform who provide top quality telehealth services in a cost effective way. Our doctors are ready to offer online consultations for a host of conditions including general medicine, paediatric, gynaecology, urology, dental, dermatology, mental health etc. Book a session today for timely medical intervention for your health issues.
Also read: Telemedicine during COVID-19: A New Evolution In Healthcare
DocGenie is an online telemedicine platform that provides you with quality healthcare from the comfort of your own space. On DocGenie, you can book an online consultation with highly qualified doctors as well as book lab tests for home collection.