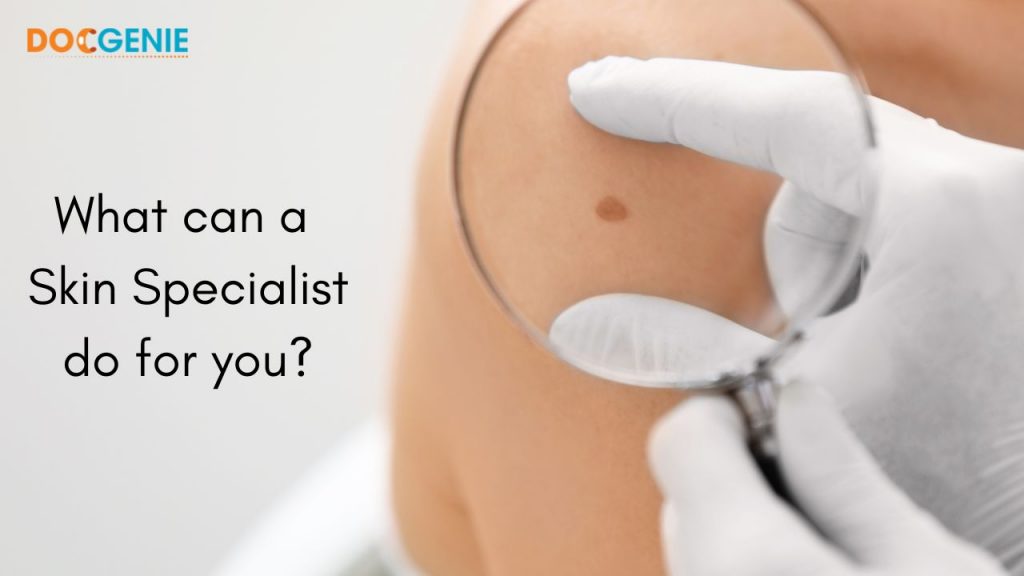 What can a skin specialist do for you? Contrary to some people's belief, a skin specialist – also known as a dermatologist – can prove to be a very valuable source of relief for diseases related to our body's largest organ. 
Our skin tends to be a great indicator of our general health and wellness. When we're doing well – both physically and mentally – people tend to notice how our skin glows. So, for more reasons than one, taking care of our skin is quite important and can also be synonymous with taking care of our overall health and wellness. For these reasons alone, staying in touch with a skin specialist is important.
What Can a Skin Specialist Do for You?
Skin specialists, or dermatologists, are medical experts who diagnose and treat diseases related to the skin. They also diagnose and treat issues related to the hair and nails, along with performing cosmetic procedures such as scar treatments and hair loss. Very often, a dermatologist consultation can lead to patients discovering internal issues with their bodies that would have otherwise been left untreated. 
Aesthetician or a Doctor?
Given their access to technologies such as laser treatments and microdermabrasion, some people tend to think of dermatologists as glorified aestheticians, but that's not the case. A dermatologist is a medical doctor who has undergone rigorous study and training to specialize in their chosen field. A dermatologist can diagnose skin diseases and conditions and also prescribe medicines for them. 
Consulting with a dermatologist is not the same as going in for a beauty treatment. When you go see a dermatologist, you'll need to bring along a list of any medications you're taking, list your allergies, and provide a history of your and your family's health issues.
When to See a Skin Specialist?
If the small patch you've seen on your body has steadily gotten bigger, then the right time to see the skin specialist was probably a few weeks ago.
However, critical scenarios aside, taking care of your skin goes well beyond topical care and cosmetic products. As the largest organ of our body, our skin protects us from external elements and germs at large, so if anything feels wrong or amiss, it's worth taking the time to investigate more closely.
If you notice any of the following issues anywhere on your body, it's time to find a doctor, especially because you can't ever be sure if red blotchy skin is an indication of skin infections and parasites.
If you're pressed for time – or unable to leave home because of Covid-related worries – we're here to help you locate the best online dermatologist consultation in the country. 
Irritated Skin – Have you been struggling with persistent skin irritation such as red patches, itchiness, allergic reactions, or flaky skin with little to no relief from any over-the-counter or home remedies? Any or all of these symptoms could be a sign of chronic skin conditions, so please make the time to see a skin specialist right away.

Scarring Related Issues – A dermatologist can help you with the proper treatment of scars. Since laser therapy and other treatments are now available for healing undesirable scars, a dermatologist can recommend the right course of treatment.
Moles and Skin Patches – Moles and skin patches are the skin conditions that perhaps get the most attention from people, from a social and a health perspective. While an idle mole or patch may not be that worrisome on its own, if either starts changing shape, size, or color, it's time to see a dermatologist urgently.

Acne – Persistent acne is notorious for being a long-lasting source of stress, which creates anxiety and self-esteem issues. But there's no reason to live that way, especially when some of the best dermatologists are available to you. You can find a way out of your acne with the right skin specialist who helps you get to the root of the problem.

Nail or skin fungus – Did you know good foot health is an indicator of balanced blood sugar levels in diabetic patients? Fungal infections, warts, ingrown nails, and nail fungus are all right up the dermatologist's alley and you definitely should make time to consult with one right away if you're struggling with any of these issues.

Hair loss – Alopecia or stress? Dry and itchy scalp or does your hair wash need to be changed? Diet-related or genetics? If you can't figure out why your hair's been falling for as long as it has – and you would like real closure on the problem – please make sure you see a dermatologist, because they can help. 
If you've been looking for the best dermatologist consultation in Delhi, you don't have to go much further than www.docgenie.in. Before you see your doctor, make sure you do your research and list your questions clearly, so they can help you in the exact way you need.