Ear, nose, and throat are some of the most sensitive organs of our body. ENT or Ear, Nose, Throat is the branch of medical science that deals with the treatment of these organs. ENT specialists treat the conditions with medication or surgery. Many such doctors also treat conditions affecting the head and neck using ENT doctor online consultation.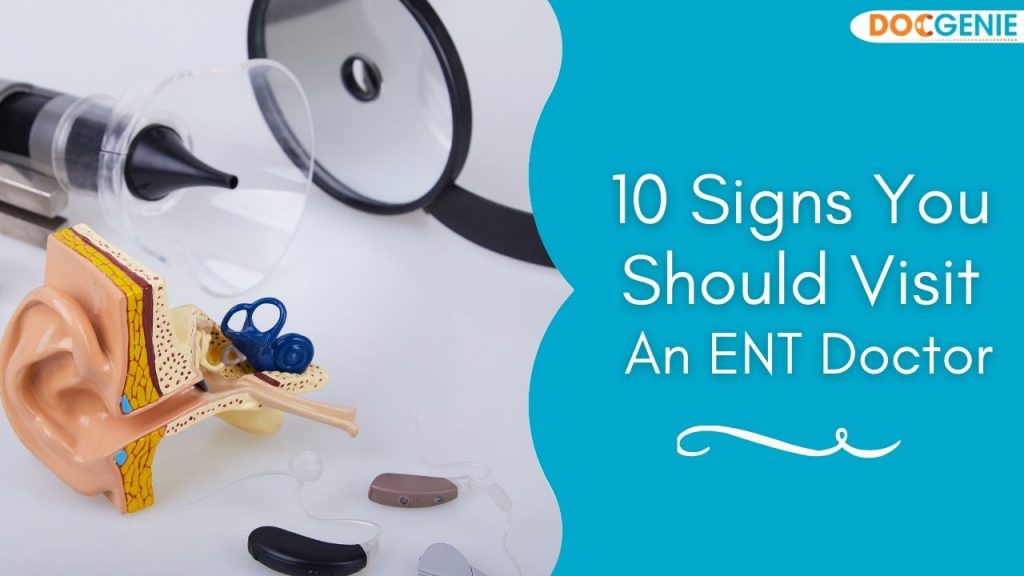 Why should you consult an ENT Doctor?
Ear, nose, and throat conditions may start as "not very serious problems". But they could get complicated or severe if not diagnosed or treated in time. Also even mild ENT conditions usually affect your lifestyle. This is where consulting an ENT specialist timely, is a good idea. Highly skilled ENT doctors with years of experience are onboard on DocGenie. You can book a session with one of our doctors for online ENT consultation, many times they are able to suggest medicines and/or tests on the video consult and other times, they will ask to see you in-person. This decision should come from the specialist.
If you are afflicted with these conditions you will need to see or consult an ENT Doctor –
Difficulty in swallowing – This could be from throat or digestive issues, or neurological conditions. 
Troublesome snoring 
Hoarseness/change in your voice that lasts for more than two weeks – It could be an infection or something more serious.
Vertigo or balance problems -This could happen due to issues in the inner-ear. It can lead to sudden falls and is risky if you are working with machines, driving, or walking on roads.
Hearing loss – This might be from damage to the ear and needs medical care.
Nose blocks – recurrent
Ear pain, ringing in the ears
Recurrent nosebleeds 
Sinus problems, facial pain 
Doctors onboard DocGenie are ready to help you through online ENT consultation for any of these issues. ENT specialists recommend lab tests for your ears, nose and throat in order to recognize the real cause behind the symptoms. Blood tests, MRIs, X-rays and CT and PET scans for proper diagnosis are also recommended at times. 
Online ENT doctor consultation
With the pandemic disrupting our ways of life in every possible way, our healthcare practices have also changed. Today, more and more people are opting for online doctor consultation or for doctor on call in India. Be it metros or small towns, many are opting for online doctor consultation to stay safe from the deadly coronavirus. Such consultations also help in avoiding long waiting hours at clinics. However, since this is a new and emerging mode of doctor consultation, it is important to prepare in advance. 
As online medical consultation becomes an established reality, people are seeking such consultations for a host of health conditions including Otolaryngology, which is also called ENT. ENT doctor online consultation is about getting medical advice for ears, nose and throat issues. To begin with, look for the best online doctor consultation platforms while looking for an online ENT doctor.
Start by researching the best online doctor consultation platforms. This will help you find the best ENT doctor who can cure your condition effectively. On DocGenie, highly skilled ENT doctors are ready for online doctor consultation. Book a session for timely intervention and avoid exposure and tedious wait at clinics.
If you are scheduling an ENT doctor online consultation, take note of the following points –
Write down the questions you want to ask the online ENT specialist.
Keep the list of the medicines and supplements you are taking.
Join the session with someone. It could be a friend or a family member. While you interact with the doctor, the other person can note down what the doctor says. Although the doctor will send you an electronic prescription at the end of your consultation.
If and when you find it difficult to understand what the doctor is saying, ask for further explanation.
Before the session ends, ask for when and how you need to follow-up and any further details about the medicines being given, eg side effects.
Also read: 4 Common Ear Infections And Problems That People Face
DocGenie is an online telemedicine platform that provides you with quality healthcare from the comfort of your own space. On DocGenie, you can book an online consultation with highly qualified doctors as well as book lab tests for home collection.