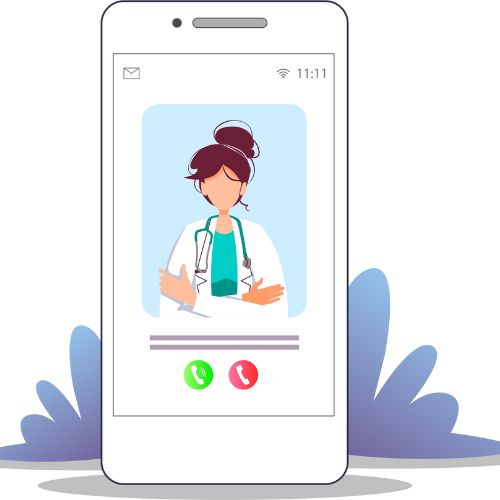 If you have pain in any part of your body, the first healthcare provider you should consult is a general physician online. Your physician needs to know each detail of pain to cure your problem and provide a more accurate solution. There are consequences you might face if you don't see a physician.
You may have many health problems at some point in your life when you need to see a doctor. If you rush to a hospital because you are always getting cold for several days, it is a physician who will see you first. They will ask you about the symptoms for the first time. They will analyze and prescribe the right medication accordingly.
A physician is also known as a family doctor. When you have any illness, you should first contact your primary care provider, i.e., your family doctor. A physician would mostly suggest a scan or other diagnosis to know the root cause of a problem. If you need someone skilled in treating your problem, they will refer you to a specialist.
These days, you don't have to leave your home to see a general physician. You can reach an online general physician through video chat or voice call. They are also licensed in general medicine and resolve acute health problems like cold, cough, fever, etc. If you are diagnosed with a significant illness, they will recommend you to an expert.
What do General Physicians Do?
A consultant physician online helps patients with complex or particular health issues. They can see patients referred to them or refer patients to specialized professionals. Here are some of the roles of general physicians.
Comprehensive Approach – Whether the doctor who referred the patient has identified one or several problems, a general physician diagnoses and detects problems with a global approach. They consider every diagnostic possibility that shouldn't be ignored.
Treat complex issues – General physicians can treat various complex health issues as they are well trained to cure illnesses that are hard to fix. They have broad training to treat and diagnose problems that may affect various body systems. They can also deal with the mental and social impacts of their patients' health conditions.
Diagnosis – General physicians are well-trained to provide diagnostic tests considering the patients' safety, health, limitations, and budget. They are known to investigate various complex health issues and use the tests effectively and logically.
Procedures – They can conduct different medical procedures to diagnose and manage complex and severe health issues.
Treatments – General physicians have proper skills and experience in critical analysis of pharmaceutical companies' claims regarding new therapies and research reports. They have sound knowledge about medications and how they would interact with other medicines. They have vast skills in helping patients in making treatment decisions to cure serious diseases.
Pre- and Post-operative care – They continuously review their patients before and after surgery. They keep surgeons in the know of the actual risk status of the patient. Hence, they suggest the right ways to avoid the risk in surgery. They help in complications and ongoing medical conditions and provide post-surgical care.
Why Should You See a General Physician?
General physicians have unique skills, training, and knowledge that make them stand out from other specialists. They undergo comprehensive and strict training programs. Hence, they are –
Highly educated and trained to treat different medical conditions of patients.
Logical, scientific, and comprehensive in their approach
Very helpful for patients in decision making for choosing treatment options and providing cost-effective resources
Capable of choosing medications and therapies for the patients to treat and prevent diseases
What if you skip the consultation with a physician?
Suppose you have an upset stomach. You will waste your fees if you go to any other specialist. This way, you should first visit a general physician. He will analyze your problem and provide the right cure at the onset. If you need a critical diagnosis for your illness, they may refer you to a specialized doctor in your specific condition.
The Takeaway
The key responsibility of a physician is to provide complete care to their patient. They should ensure that their patient gets all the essential medical care and build trust with the patients. They should take care of their patients' privacy and keep patient's health records limited to the concerned healthcare providers. Physicians should have a positive bond with their patients and always protect their patient's interests.
A physician has all the general details they should know about their patient's illnesses. You should quickly consult our doctors if you are having pain or discomfort in your body. At DocGenie, you can consult online physician doctor Delhi and resolve all your health issues.
Our Doctor
Online General Physician in Delhi, Online ENT Doctors in Delhi, Online Psychiatrist Consultation in Delhi, Online pediatrician consultant in Delhi, Online Obstetrician & Gynaecologist Consultant in Delhi, Online Dermatologist Doctor in Delhi, Online Dentist Consultation in Delhi, Online Consultant with Surgeons in Delhi, Online Orthopedic Consultation in Delhi, Online Urologist Doctor Consultation in Delhi